Cosplay
Cosplay is short for "costume play". It involves reimagining 2D characters as they would be in 3D. Every year I like to reimagine my favorite characters from video games, TV shows, etc. in 3D and become them by spending hours upon hours creating the perfect image from head to toe, often involving the wig, makeup, accessories, clothes, and props.
I first began attending Otakon, the second largest anime convention in the United States, in 2008 at the age of 10 while being dragged along by my older sister. As my love for anime, comics, and video games grew, my amazement of the tens of thousands of cosplayers at the convention sporting all different kinds of costumes grew as well. I began attending yearly and in 2012 I decided to make my own cosplay for the first time.
Click images for full view.
"I only ever wanted to do the right thing no matter how it made people judge me, and I don't need a magic ring to do that. And you don't have to 8e a good person to 8e a hero." - Vriska Serket, Homestuck
Vriska Serket (God Tier Version), 2012
From the apocalyptic fiction, coming of age webcomic, Homestuck
Components: horns (made from paper mache provided by my middle school art teacher Mr. Sprites, aluminum foil, finishing spray, and 3 shades of fabric paint), boots (sewed boot covers), tunic (sewed, painted on design with self-made paper stencil with a toothbrush and fabric paint), pants (sewed), glasses (bought from Dollar Store and modified; experimented with making frames out of scratch from wire), wings (made from 2 shades of organza, Beacon 3-in-1 craft glue, wire, and painter's tape. harness made out of scrap fabric from tunic), hood/cape (sewed together as one piece, also added functioning buttons for horns), armsocks (sewed from a grey pair of tights from Target, following this tutorial) Makeup: blue eyeliner/lipstick (from Hot Topic), black/white Ben Nye creme stack-up (won in an online giveaway, mixed black and white to create perfect shade of grey)
Cosplay debuted at Otakon 2012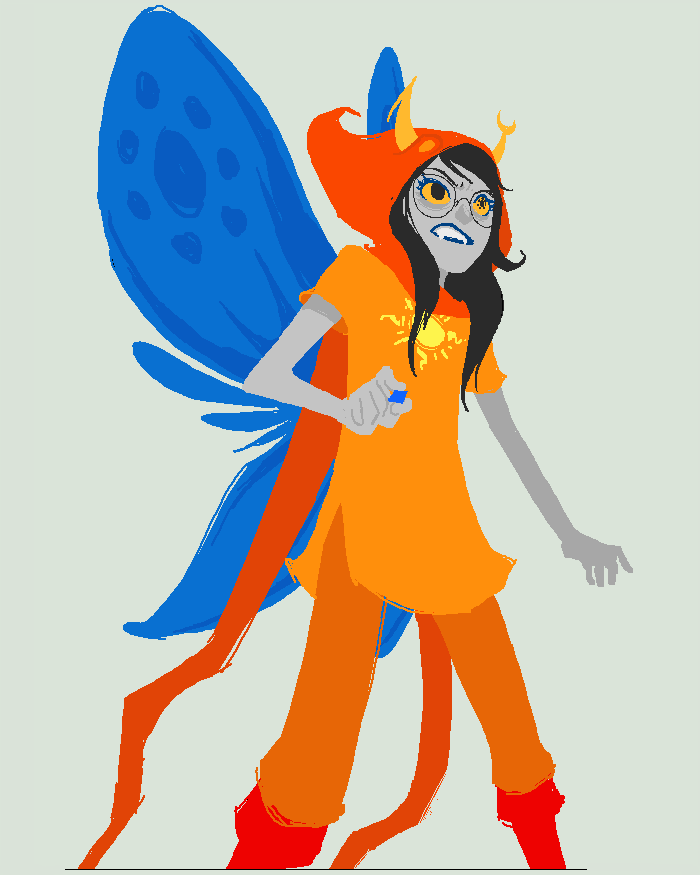 Vriska Serket © Andrew Hussie
My first ever costume! It was made entirely from scratch. Making this costume helped me understand the importance of different types of cloth; while broadcloth is certainly inexpensive, it wrinkles easily, leaving an unclean look.
Making the wings for this costume is still the most fun thing I've done for a cosplay so far. I've never worked as intensively with wire previously, and the wire I used to make the wing frame was just a roll of scrap wire found in my garage. Since references from the actual comic of the wings were inconsistent, I had to do a lot of guesswork in calculating the dimensions of the wings. I studied butterfly wings to create a nice wing frame that would show through the translucent organza under light.
"Detectives do not stand in the light nor do they hide in the shadows… We do not work for justice, nor do we work for evil. That's why we can always reach the single, absolute truth. To do that, we must draw a distinction between us and the world." - Kirigiri Kyouko, Danganronpa: Trigger Happy Havoc
Kirigiri Kyouko, 2013
From the murder mystery videogame, Danganronpa: Trigger Happy Havoc
Components: pale purple wig (styled with anti-frizz spray and wig comb, bought from jewelmall2012, located in China, of Ebay), dress shirt (sewed and modified from an old shirt of my dad's, sewed on zipper, design added via iron transfer), tie (sewed, design added via iron transfer using my friend Aki's printer), jacket (sewed with help from my mom; modified and used a pattern, added buttons and interfacing, sewed zipper on sleeves), pleated skirt (sewed), gloves (inserted cardboard as a base to metal studs bought from Ebay, hot glued onto gloves bought from Kohls), stockings (bought from Kohls), boots (5-inch tall heels, bought from Kohls), wig ribbon (a present from my friend Haley) Makeup: fake eyelashes (bought from Target), foundation, black liquid eyeliner
Cosplay debuted at Otakon 2013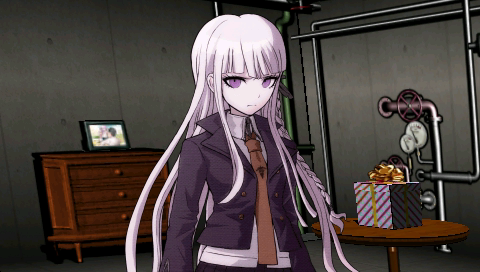 Kirigiri Kyouko © Spike Chunsoft
It was pretty interesting having to ask my dad how to actually tie a tie after sewing the tie! I made my first cosplay friends from this cosplay as part of a cosplay group.
Kirigiri, a top detective, is locked along with her 15 other classmates in their high school where they are forced to murder each other. Only the one who can commit the perfect crime will be able to "graduate". I love how Kirigiri keeps a cool head even when everyone else is panicking about murders.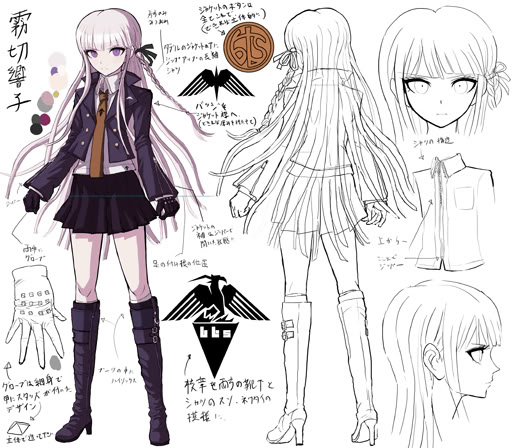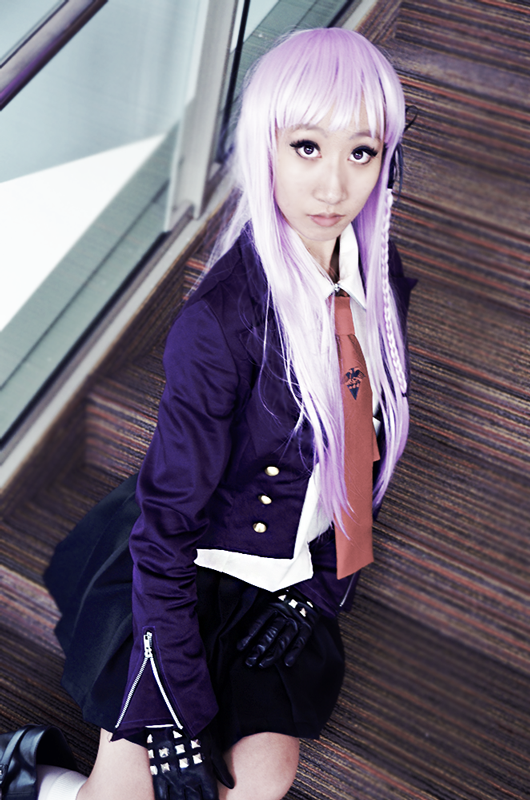 "I'm sick of killing people, I want to be friends with Gon and live a normal life." - Killua Zoldyck, Hunter x Hunter
Killua Zoldyck, 2014
From the fantasy adventure comic, Hunter x Hunter
Components: white wig (bought from Ebay, styled in collaboration with my friend Brookyln Foreman of Bokoro-chan Cosplay located in New Jersey using Schwarzkopf got2b ultra glued styling gel and freeze spray), boots (sewed double layer boot covers consisting of jersey stretch fabric for easy removal, stuffed with cotton for dimension), shorts (from my middle school gym class), v-neck (bought from Walmart), turtleneck (borrowed from my sister; joked six years prior about attempting a Killua cosplay using that very turtleneck) Makeup: white eyeliner for eyebrows (bought from Target), foundation, black liquid eyeliner, setting powder (borrowed from my friend Audrey), brown eyeshadow for contouring
Cosplay debuted at Otakon 2014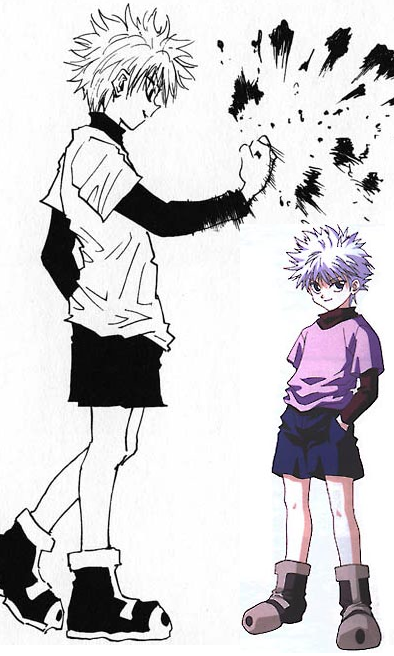 Killua Zoldyck © Togashi Yoshihiro
Even though Killua has been the simplest cosplay I've made, it is my favorite. I've been reading Hunter x Hunter since I was 6 years old, and so it has a huge place in my heart. When I finally decided to cosplay him I wasn't expecting anyone to recognize me, because Hunter x Hunter is so old. However, when I went to the meetup at Otakon 2014, I made irreplaceable friends with whom I still keep in touch with daily.
Killua is a 12 year old boy who has been tortured since birth to become a professional assassin. It is not until he runs away from home and attends the Hunter exam where he makes his first friend, Gon Freecss. Thereafter he learns the true meaning of living.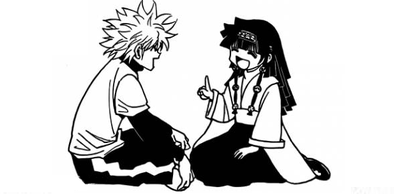 "The greatest happiness is seeing someone you like stay happy." - Tomoyo Daidouji, Cardcaptor Sakura
Tomoyo Daidouji, 2015
From the magical girl mystery show, Cardcaptor Sakura
Components: dark purple wig (cut and styled, bought from Wig-Supplier), turtleneck bib (cotton broadcloth with back zipper), belt (sewed down 12 ft length with side-slot to insert 7.5 ft of wire for structure, cotton broadcloth), dress (created by my friend Theo DuBois RainieSnow Cosplay located in Virginia), sandals (borrowed from my friend Claire Smallwood) Makeup: blush, pink lipstick, brown eyebrow pencil, fake eyelashes, light foundation (borrowed from my friend Theo), black liquid eyeliner, brown eyeshadow for contouring, white highlighter
Cosplay debuted at Otakon 2015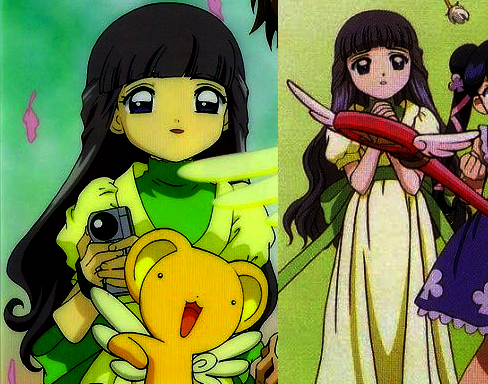 Tomoyo Daidouji © CLAMP
Cardcaptor Sakura was one of first shows I ever watched. I was always enchanted by how strong the female lead characters, Tomoyo and Sakura, were. Wearing this cosplay made me feel like a little girl again. This particular outfit is from Cardcaptor Sakura Movie 2: The Sealed Card.
Tomoyo is a kindhearted 10 year old girl who loves her best friend, Sakura, dearly. Constantly smiling, she is always supporting Sakura from the sidelines.
"Until I met you, the world was just a place to wander aimlessly, like a dream you fell in and out of. Don't disappear, Koto." - Inari, Kyousougiga
Inari, 2015
From the fantasy show, Kyousougiga
Components: dark brown wig (cut and styled, bought from Wig-Supplier), straight katana (created over one month and 50+ hours: base made of straightened thick cable glued with craft foam; handle made of craft glue and wire; rivets made of masking tape and aluminum foil. Covered in initial layer of masking tape, then three layers of paper mache. Painted white acrylic paint, covered diamonds of painter's tape, painted red acrylic paint, then removed diamonds of painter's tape to touch up with white. Then spraypainted gold, and removed the rest of the painter's tape. Finally sealed with glossy finish.), black tights (bought from Kohls), white boots (bought from Ebay, painted with white acrylic paint and sealed), white jacket (bought used from Ebay, spraypainted buttons gold), white shorts (bought from Ebay) Makeup: brown eyebrow pencil, foundation, black liquid eyeliner, brown eyeshadow for contouring
Cosplay debuted at Otakon 2015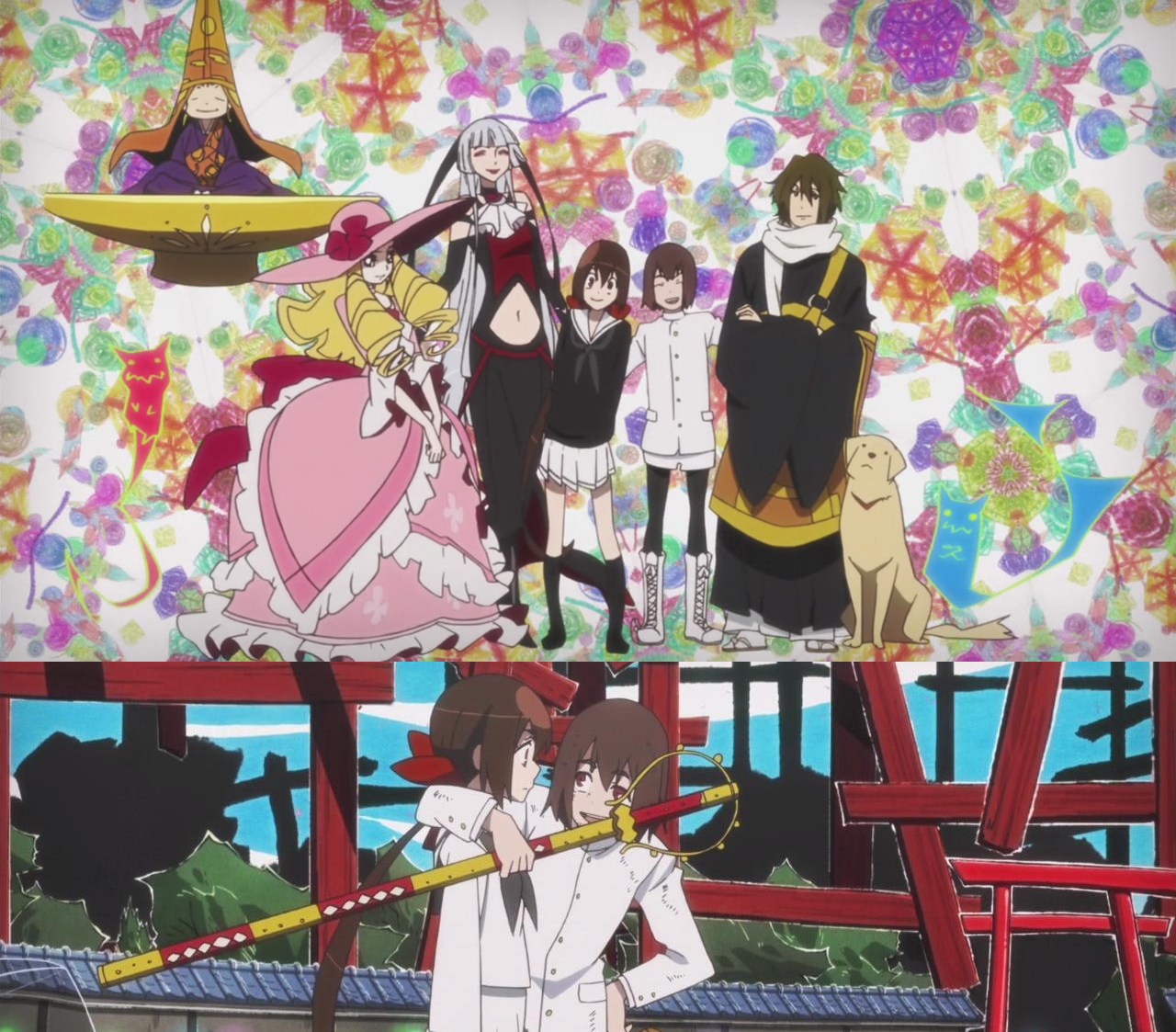 Inari © Izumi Todo
"Where the boundary between man and god was vague...This is a tale of a particular family, a tale of love and rebirth."
I had always wanted to cosplay Inari, so I pulled two friends, Laura and Theo, into cosplaying with me as a group. Making the katana took over 50 hours because it was my first time making a prop, but it's probably the most fun I've ever had working on cosplay!
Kyousouiga is a story that delves into the meaning of family between selfish and selfless love. I decided to cosplay Inari because I admire his struggle of finding himself.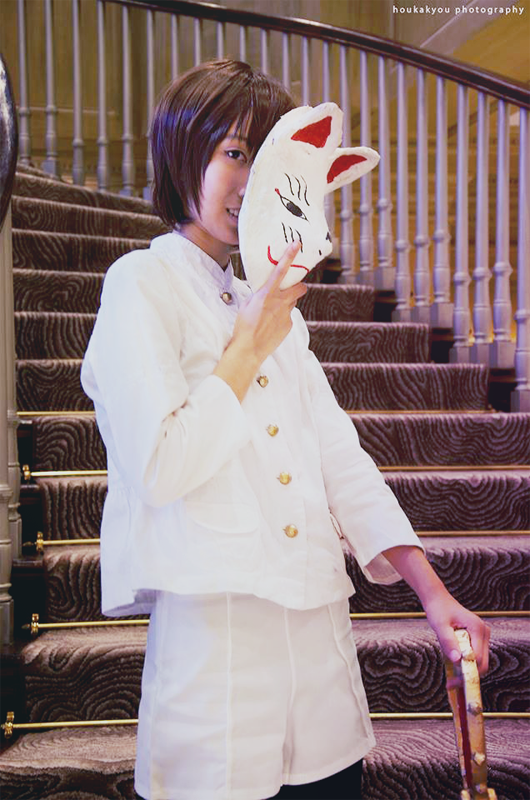 "Reality is shaped by what we believe reality should be. If observation can change the motion of a particle, then how is it odd to think that human thought can shape reality?" - Akane Kurashiki, Zero Escape
Akane Kurashiki, 2016
From the puzzle adventure videogame series, Zero Escape
Components: gray-purple wig (cut and styled, bought from Ebay), dark purple scrunchie (made from scrap fabric), belt (bought from Wet Seal, modified with centerpiece made with spraypainted cardboard and black twill), shoes (won from a Mamahuhu giveaway), sweater (bought from Kohls, dyed with tea and modified collar), chainsaw (made of an oil can, acrylics, paper mache, and cardboard. Took 7 hours. Paint weathering done by my friend Theo DuBois RainieSnow Cosplay located in Virginia) Makeup: blush, pink lipstick, fake eyelashes, brown eyebrow pencil, purple eyebrow pencil & light foundation (both borrowed from my friend Theo), black liquid eyeliner, brown eyeshadow for contouring, red eyeshadow, white highlighter
Cosplay debuted at Otakon 2016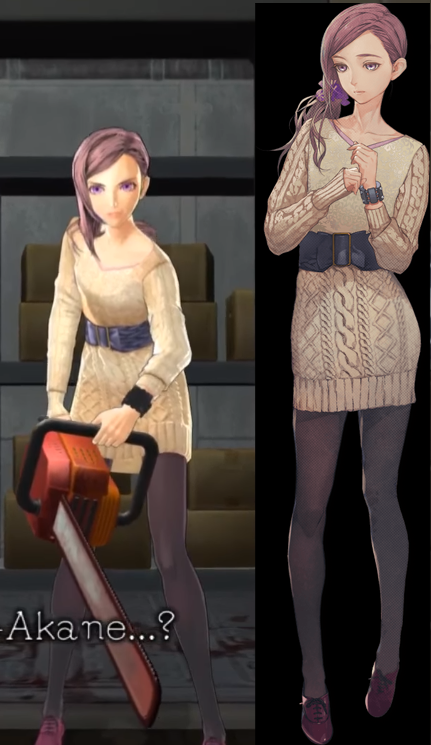 Akane Kurashiki © Chunsoft
Zero Escape is my favorite videogame series. It combines concepts like the Monty Hall problem and multiverse theory with psychological horror and puzzles in an incredibly engrossing way.
Akane Kurashiki grows from naive and innocent to cold and calculating over the course of the series. She's hardened from being forced to see millions of years worth of timelines, and is amazingly intelligent as a result. I am cosplaying her Zero Time Dilemma version.